About me
Hi hi!
My alias is Mewms and I use she/her pronouns! I've been in the cover community for about 5 years now, all 5 of which I've been mixing. I am very experienced in working with audio and I have worked with many different Youtaites and cover artists in the past (please see my portfolio for examples of my past work!). I am most experienced working with large choruses with many different vocalists; however, I love mixing for solos, duos, and trios as well. I would absolutely love the chance to branch out and work with Youtaites or Vtubers who I haven't gotten the chance to work with the past!Currently, I'm a biomedical sciences major and I intend to apply to medical school after I graduate! I am a self funded college student, so any money that I make from commissions goes directly into my savings for education expenses! :)For all my mixes, I use MELODYNE to tune. Then, I use and REAPER to time, mix, and master.Thank you for your interest and time! I hope you'll consider commissioning me for a high quality mix! <3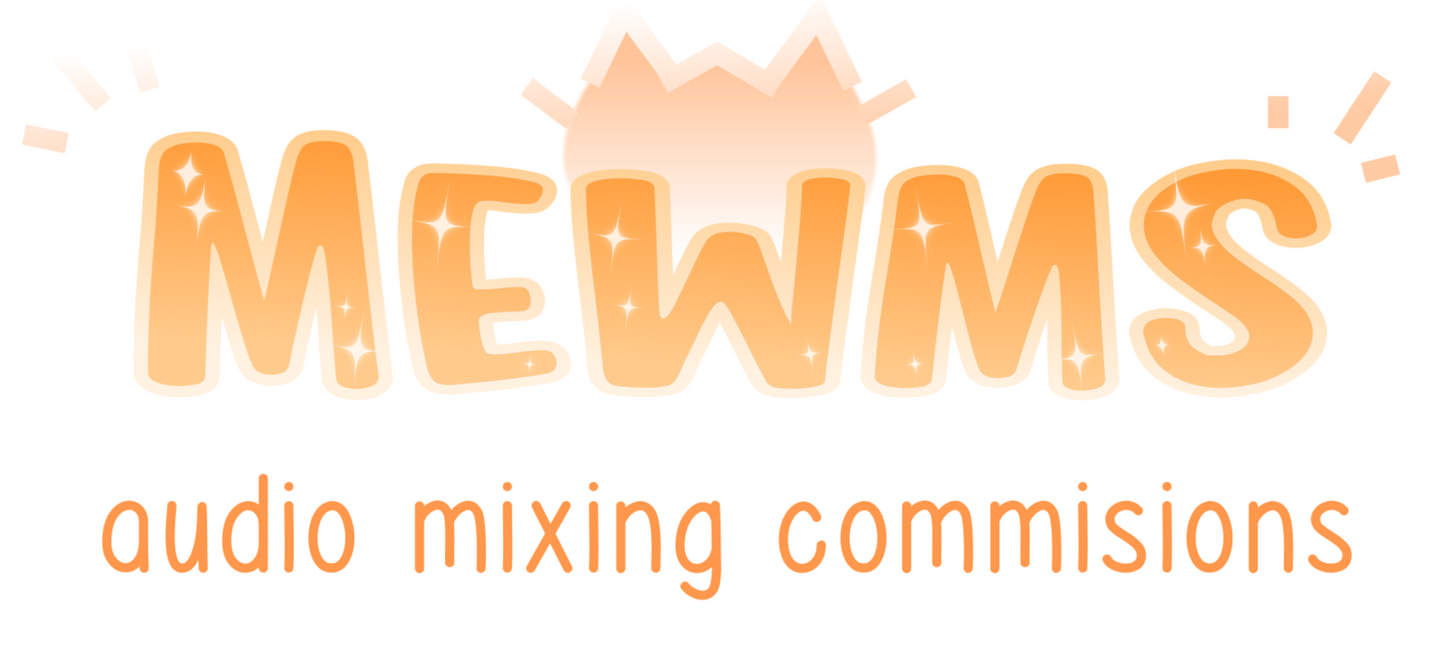 status : CLOSED
Thank you very much for your interest in commissioning me! Please read through my TOS before ordering and if you have any further questions or concerns please reach out to me on discord or twitter at #mewms3634 and @mewmewmewm1!
Terms of service
♢ All payments must be paid in USD via PayPal. I will send an invoice!
♢ Mixes will be started once all of the payment is sent.
♢ Solo mixes are usually done in about a week and a half, trios can usually take 2 weeks, and full choruses can potentially be up to 3-4 weeks depending on the amount of vocalists. Sometimes I'll have things in my schedule that may slightly extend these estimates, however, I will give you an exact due date when I start the commission and give you updates on the process as I go!
♢ Send all lines completely raw without any effects in MONO WAV format please!
♢ Please send me a link or .wav file to the off vocal that you recorded to.
♢ There is no limit on the amount of tracks you can send so feel free to send as many files as you need!
♢ Please DO NOT send overlapping lines! If there are more than 4 tracks per vocalist there is an additional fee (see pricing)
♢ Please keep in mind that I have the right to refuse your mix if your mic quality is too low. I will usually not be accepting recordings with earbud / laptop microphones, however, if it is a big chorus and only one or two vocalists only have headphone mics then I can work around it but be aware that the quality may sound slightly off from the other vocalists.
♢ Try to keep loud background noises such as air conditioners to a minimum in your recordings. It also helps quite a bit if vocalists leave about 15 seconds of just blank noise in their recordings for noise removal purposes!
♢ Commercial use of my mixes is permitted as long as proper credit is given.
♢ Changes to the mix after it is done is free of charge. Limit 4 changed mixes per commission
♢ There's no limit on the amount of critiques you can give at a time, however, I will not send you more than 4 updated mixes unless it's a very minor fix (ie : change the volume on this one line). Feel free to send the mix to a friend and have them mention anything that sounds off as well and communicate that to me to have another set of ears to look over it so I don't have to do as many updates!
♢ I reserve the right to use commissioned mixes as part of my portfolio.
♢ Please credit me for the mix either in the description and/or in the video if it's animated!
Link my YT channel : https://www.youtube.com/channel/UCjEzqcvZNnCNP-tqThgVPEw
How To Order
After you've read through both my prices and terms of service, please contact me on discord (mewms#3634) or twitter (@mewmewmewm1) with the following form filled out. If you have any additional questions or concerns feel free to reach out to me on either platform!
- Contact person:
- Song name and link to song:
- Commission type (timing, tuning, just mixing/master, or full mix):
- Number of vocalists:
- Link to files:
- Paypal email (used to send invoice):
Prices
♢ Base Pricing ♢
$20 for a solo mix (time + tune included)
+$5 for each additional vocalist
Maximum 9 Vocalists per order!
(Having more vocalists than 9 can be discussed depending on the project, please DM for more information!)
+4$ for extra mix effects (include artificial harmonies, more than 4 tracks per vocalist, glitch effects, etc)
⤥ Mix Fee Calculator ⤦
| vocalists | base price | +effects |
| --- | --- | --- |
| 1 | $20 | $24 |
| 2 | $25 | $29 |
| 3 | $30 | $34 |
| 4 | $35 | $39 |
| 5 | $40 | $44 |
| 6 | $45 | $49 |
| 7 | $50 | $54 |
| 8 | $55 | $59 |
| 9 | $60 | $64 |
I typically do tuning, timing, and mixing/mastering for all of my mixes. However, if you only want me to do certain parts of the mix like tuning/timing I'm totally okay with that! Tuning and timing is 30% of the price each (60% for both) and mixing and mastering is 40% of the price

TV sized mixes (less than 2 minutes) are 40% off!